Printable, full instructions for using Turnitin
Turnitin can be added directly to a Canvas course using the Assignment tool.  When Turnitin is added to Canvas, students' Turnitin accounts are automatically created. Students submit their documents through the Turnitin assignment in their Canvas course.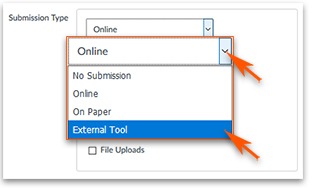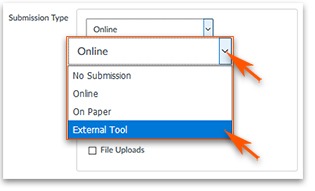 Click the Assignment link on the Canvas course menu.
Click to +Assignment
Name the assignment
Scroll to Submission type to select External Tool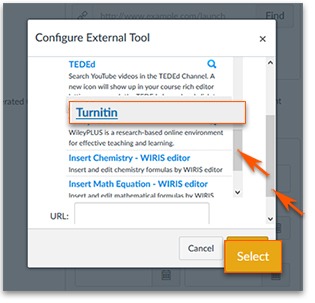 Choose from the list of options Turnitin
Click to Select
Continue the routine setup of the assignment
You must click Save and Publish in order to see the Turnitin Assignment.
To setup the options of the Turnitin assignment, you must click to access the assignment.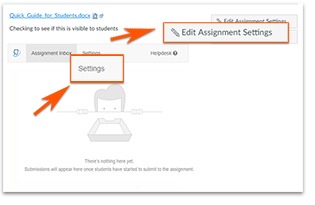 Edit Assignment Settings returns you to the Canvas assignment
Settings in the header bar takes you to the Turnitin settings.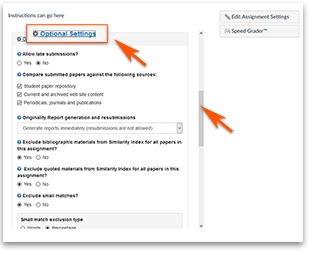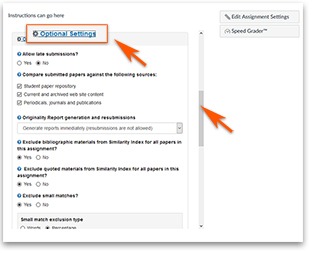 Click Optional Settings to set your preferences for Turnitin
Click Submit to save settings.
Turnitin does not recognize Canvas' Student View.  You will not be able to see the assignment as a student.

If you, or your students, have a problem with Turnitin, you can report it directly to Turnitin by using the Helpdesk link.
Southern Miss' Turnitin admin is Gene'O Gordon (601 266-4644, Eugene.Gordon@usm.edu)